Courtesy of Mindshop Online.
In his book " First Things First" Stephen Covey asks, "What does it matter how much we do if what we're doing isn't what matters most?" Stephen Covey explains that most people are driven by the concept of urgency. But to really effect positive change in our lives, we need to reorganize the way we spend our time; based on the concept of importance – not urgency. He developed this tool for analyzing how you spend your time — the Time Management Matrix.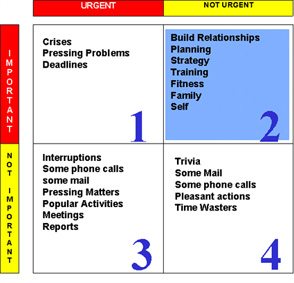 You will see from the time management matrix above that Covey has broken your activities into four quadrants. They are:
QUADRANT I (QUADRANT OF NECESSITY)
This quadrant represents activities that are necessary for you to exist. They are URGENT (time-sensitive) and IMPORTANT to you. These are some of the kinds of activities that fit into quadrant 1:
pressing problems or crises
deadline driven projects
last-minute preparations for scheduled activities
We tend to focus on quadrant 1 activities because they are urgent and the need to do these activities is readily apparent. These activities are hard to ignore because our life experiences have taught us that when we IGNORE quadrant 1 activities, we get into TROUBLE.
QUADRANT 2 (QUADRANT OF QUALITY)
This quadrant represents activities that are important, but because they are NOT URGENT, they are easy to put on the back burner for "when I have time." In order to focus on these activities, one must be PROACTIVE. Here are examples of activities that fall into quadrant 2:
preparation/planning
prevention
values clarification
relationship-building
strategy development
The more time we spend in quadrant 2, the more QUALITY we add to our lives. If we neglect quadrant 2 activities long enough sometimes they become quadrant 1 activities (urgent and important). Effectively translating these high-leverage quadrant 2 goals into action requires a FRAMEWORK for effective decision-making about how you spend your time. Most people struggle to find time for the important but not urgent activities in their already full schedule. Covey reminds us that "the key is not to prioritize your schedule, but to schedule your priorities."
QUADRANT 3 (QUADRANT OF DECEPTION)
Quadrant 3 is known as the Quadrant of Deception where the noise of urgency creates the illusion of importance. The word "urgent" means that the activity is TIME-SENSITIVE or deadline driven. Here are examples of activities that fall into quadrant 3:
unimportant interruptions & phone calls
unimportant mail & reports
some meetings
many "pressing" matters
many popular activities
The activities represented in this quadrant are ones that we would do well to say 'no' to or RENEGOTIATE. If they are important at all they are usually important to someone else rather than you. We spend a lot of time here meeting other peoples priorities and expectations. The only exception to this would be activities that are important to someone who is important to you. You may deem an activity important because you value a relationship. But many of us are "urgency addicted" , a self-destructive behavior that temporarily fills a void created by un-met needs.
QUADRANT 4 (QUADRANT OF WASTE)
This quadrant represents activities that are NOT important and are NOT urgent. Here are examples of activities that fall into quadrant 4:
trivia, busy-work
reviewing junk mail
some phone calls
escape activities (goofing off)
Most of us do not spend much time in this quadrant because we simply don't have time to waste. The most common quadrant 4 activity I encounter in my work with busy people is ESCAPE activities. When the stress level gets high enough, some people escape from reality by doing activities that do not address or resolve the problem.
Step by Step Guide
Step 1. Discuss the benefits of effective time management.
Step 2. Ask the group to list all the things they have to do each day. These tasks should include everything that demands their time. They may use the examples shown above the quadrant definitions to help them get started. When they have completed their list ask if they CHOOSE to do all these things they have just listed, note their response and move on to step 2.
Step 3. Draw a Time Management Matrix and explain the four quadrants but leave out the activities. Next ask them to transfer their listed tasks into the matrix quadrant they think it belongs in. They may need some assistance here because the same tasks can fall into quadrant 2 or quadrant 4. They are the only one who can determine which quadrant the activity belongs in. For example if they are treating themselves to true recreation and relaxation (resting and renewing themselves) they are in quadrant 2. If they are engaging in an escape activity (avoiding the problem and not finding a solution) they are in quadrant 4 . The motivation behind the activity determines which quadrant they are in.
Step 4. Reviewing the matrix together you should now find that they start to begin to recognize that they did not have to do many of the tasks and that they chose to do most of them. Their choice now may be to choose to either delegate or just not do things that before felt like they had to do. The realization that these activities were all CHOICE should completely change how they now feel about them.
Step 5. Summarize the Matrix. Explain that the goal is to MANAGE activities in quadrant 1 and FOCUS on activities in quadrant 2. AVOID activities in quadrants 3 and 4 which are activities that they have deemed as not important and yet, because so many of us are urgency addicted, we tend to spend the bulk of our time in quadrants 1 and 3 — doing activities that are urgent and important or urgent and not important.
Step 6. Ask the group what percentage of time they think they are spending in each quadrant? The average person would spend 25% in category 1, 15% in category 2, 57% in category 3 and 3% in category 4. The average goal would be to spend approximately 20% in category 1, 64% in category 2, 15% in category 3 and 1% or less in category 4.
Step 7. Use the Time Management Chart tool to assist your client to break down the hours in the day and to monitor and improve time management skills.
Step 8. Remind them that there will always be more work to do than we can ever get done. Explain the Pareto Analysis tool and ask them to concentrate on the 20% that yields 80% of the results.
Step 9. Stress the need to learn to say 'NO'. Advise them to choose a few of the more meaningful tasks and let go of the rest. They will feel a much greater sense of accomplishment because they will have heightened their focus on what is most important.